This beautiful lily plant was growing and blooming right along the road...the date was July 14, 2008. Obviously the blooming season will vary depending upon the weather. However, you may be fortunate to see these flowers around thie middle of July.
The Washington Lily flowers will be found on the left side of the road just a short distance beyond the bridge.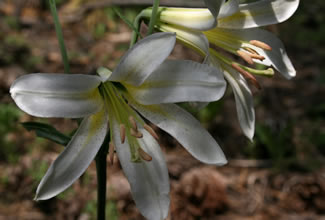 You may find the below Web site interesting. Not only does it show the many wildflowers found in Tuolumne County, it tells where you may find them in the various locations throughout the Stanisluas Forest and what time of the year.
http://www.tuolumnewildflowers.com
Footnote: Since 2008 when the above Washington Lily wildflowers were first seen, I have discovered a number of these lilies around Cold Springs.
Directions: From the Summit Ranger Station, drive east on Hwy 108 to 5N01 which is the Niagara Creek Road. Turn right and continue on this road crossing the bridge at Niagara Creek. These lilies were just about .2 of a mile beyond the bridge.