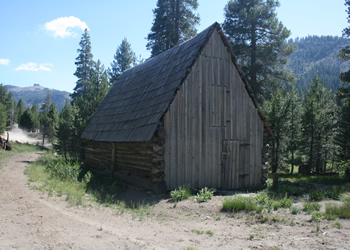 ---
Martin's Cow Camp
and Eagle Meadow Basque Carvings
---
Martin's Cow Camp is located at Eagle Meadow in a beautiful setting of tall conifers with several outstanding volcanic peaks towering above: Three Chimneys, Eagle Peak, and Castle Rock. Sometime in the 1880s, a family from Sonora by the name of McCormick built the camp.
Then in 1909, Joe Martin took charge of the camp. The buildings that he replaced are the ones we see today.
Sometime in the early twentieth century, the U.S. Forest Service started controlling the grazing of the cattle and sheep within the Forest area. This caused many disputes, sometimes violent, between the ranchers.
Basque sheepherders were also in this area in the early 1900s. If you look closely around the area, you will see their unique carvings on many aspens and lodgepole pines. These were carved messages and the technique is called Arborglyph. In many cases they left dates and places of origin carved on the trees. A carver named Jean Choutchourrou did many carvings and his name can be found on trees around Martin's Cow Camp as well as in Yosemite National Park. Additional photos
(I need to find out if it is still an active cattle ranch today.)
---
Directions:
Within the Stanislaus National Forest, from the Summit Ranger Station, head east onto Highway 108 for 17 miles. Turn right onto Eagle Meadow Road (5N01). Drive 1/4 mile and turn right. You will cross a cattle guard and continue to the right. You will cross a bridge and Niagara Campground. Continue up the hill and stay to the right. The paved roads ends about 2 miles beyond this point. Upon reaching Eagle Creek, Martin's Cow Camp is located on the left immediately after crossing the Creek. Depending upon the winter snow runoff, you may not be able to traverse the cree3k. It would be wise to check with the Ranger Station about road conditions in the early Spring. Always take caution before crossing any creek.
Return to Locations or go to Next Page
---